The less you eat, drink and buy books; the less you go to the theatre, the dance hall, the public house; the less you think, love, theorise, sing, paint, fence, etc., the more you save – the greater becomes your treasure which neither moths nor rust will devour – your capital. The less you are, the less you express your own life, the more you have, i.e., the greater is your alienated life, the greater is the store of your estranged being.
Karl Marx - Economic and Philosophical Manuscripts 1844
I have two problems with this argument. It's at once consumerist/materialistic and self-centred.
Consumerist: Of course it f―ing sucks to not be able to buy anything, to not be able to go out eat at a restaurant or have drinks with your friends.

But part of the reason it sucks so much is because of consumerism and marketing itself. To the degree that the marketing-images of happy couples, vacationers, successful rappers, roulette winners, delicious food, beautiful travel pictures, and so on make us desire and even, feel empty without those material goods, yes you may feel miserable without them. But the royal treatment lavished upon customers is technically something one needn't buy into; buying into that salespitch is buying into consumerism. Part of what f―ing sucks about not having "enough" money is actually not having enough. Part of it is not having the things you see others around you having.

Is your fullest expression of yourself really the external attendance at paid events? Is it necessary to take an economic transaction (concert, food, drink, film) to go out and have friends? Part of that is due to lack of public spaces.—each parcel of land is owned by someone, perhaps the government, and the owner(s) may or may not permit you to be there. Another part is due to people believing, as Marx implies above, that being alive and vibrant necessitates buying things.

In the show Downton Abbey there's one person whose function is to make food

and one person whose function is to eat it.

Is that really your expression of liveliness and bon vivance?


Self-centred. Only by being unaware of the server's and cook's role in the transaction—only by putting the experience of the hot kitchen, the lecherous eyes of patrons, the down-talk one receives introducing oneself by profession as food service, and so on—does the consumer relax into Bourdain-esque nirvana.


I don't think the waitstaff or cooks are doing this for their own fun. Everyone needs to work some amount to be happy, but the low pay for them which causes low prices for me, is not a plus to any server or cook.


In the case of the thespians—well, somebody has to compensate them for their performance, unless you're saying they should do it for you for free. Actors, dancers, and musicians do perform for free sometimes, but I don't see it as a good thing, because they still need to work 40–60 hours a week additionally, serving tables and whatnot. Or it could be worse if they need to pay as well for the performance or practice spaces; instead we the audience should be at least defraying those costs for them, if not paying them a net positive.
The two groups who I think see through this are: a) anarchists and b) those who believe their standard-issue economics instruction. The anarchists I know are quite happy to make up games and play them, for free, in a public space which costs nothing. Participating less in the economic system—buying less, at least—tautologically reduces the demands on the people who are working. Economists preach that every transaction is two-sided, so you can't think of only the buyer (as Marx is doing here, with himself as egoistic entertained) without considering the seller. Where I think the econ's fall down on the job is if they take Walter Q Server's low wages as an optimal outcome, rather than asking what might raise his earning/producing power, without incurring other negatives to himself or others.
Theoretically Marx's observation is a "nifty" one—saving sucks, is f―ing annoying, and so on. But that's only from an egotistical perspective. I never want to imply that others should be doing services for me unremunerated, so that I can "just be free to be myself" or some b―sh―.


Asking people to bargain or work for others' IOU's before having the right to request services of a third party, is much more communal and respectful than "I should just get to have stuff"—in what context-free vacuum is that happening? It's also fully reasonable to say things like "A car can cost many multiples of a beer and therefore require not-buying many beers". Or, you know, buy neither car nor beer.


If the Panglossian/Pareto/Lagrange paradigm falls short (as I think it does) it's not in this way.
Online ad sales reps love to talk about "engagement". 

How can you measure engagement? Here's a simple suggestion: measure the average number of seconds displayed per impression (SPI) for a given placement. 
Summary: skip to the pictures after the <big> text under heading 2.
11111111111111111
Since 2009, pundits have concerned themselves with economic inequality. Robert Reich's infographic about the US I'll treat as a summary.
Let me dummyise the opinionscape into three camps:
John Galt. The etymology of aristo-cracy is "rule by the best people". The market rewards output fairly. Tax the best people and you will drive them out of France and into perfect stateless seasteads. Lose them and you'll be sorry.
Maximilien de Robespierre. F—k the rich. They inherited their way to the top. Connections, luck, brown-nosing, and false confidence determine incomes more than "merit". The middle manager is no better than his underling. The applicant who got the job is no better than another applicant who was ignored. Guillotine the superfluous gentleman, the role will still be filled; the new girl may even do it better.
Vilfredo Pareto. Hey—if the rich aren't actively making the poor worse off, what does it matter?
The third view is the one I want to challenge just now.
When I see a manual farmer being destroyed by Nature, I feel:
privileged
sorry for the farmer
the longer I spent thinking about their suffering, the sorrier I feel
Why doesn't somebody do something? They don't need much. They just need a little help.
This is so unfair.
And somehow, gut reactions are part of real morality and ethics.
22222222222222222
So here's my challenge to the Paretians. Which image galls you more:
a farmer suffering from drought, with the whole community destroyed—families crying into each other in solidarity as they all lost pretty much everything

, or…
next to the damned farmers weeping on their knees, stands the Monopoly Man, laughing, swirling a flute of champagne and recounting the fable of the grasshopper and the ant.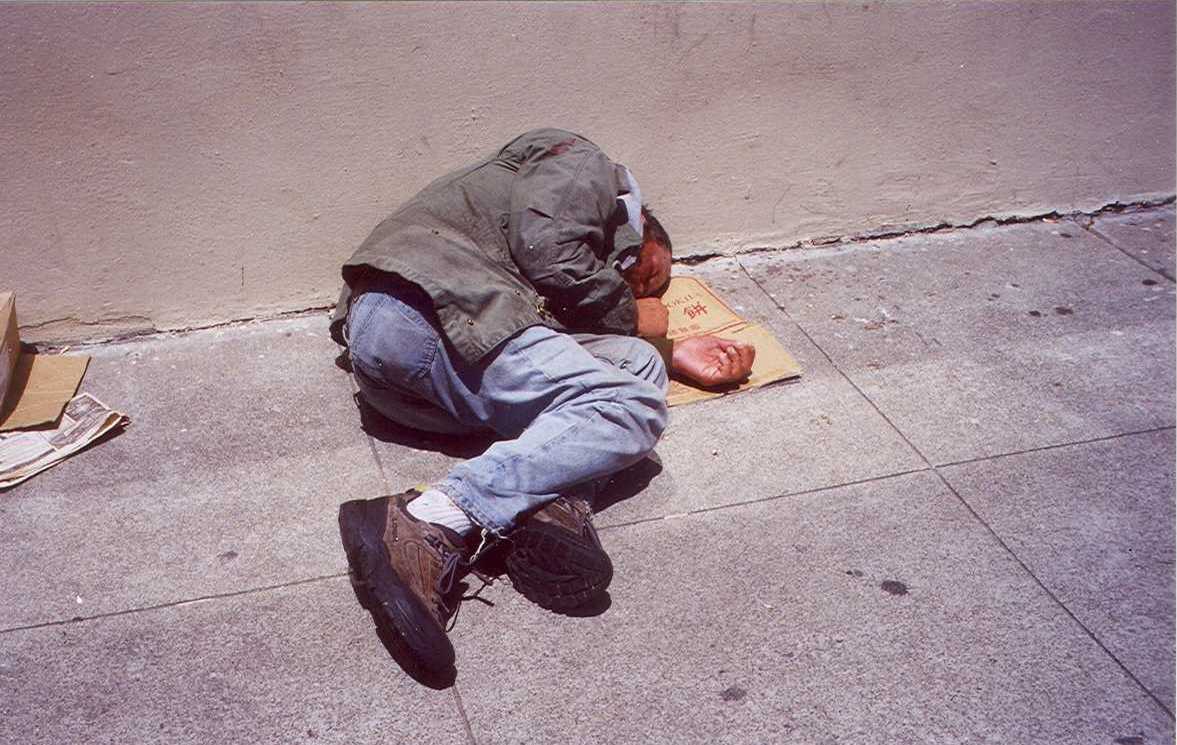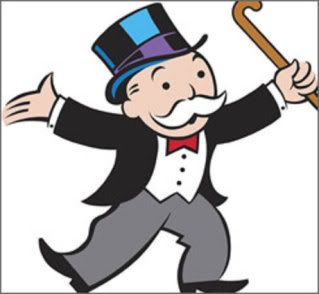 To the extent that these gut reactions translate into legitimate morals, the Robespierreans win over the Galtists and over the Paretians.
Envy exists. From this one infers that when the rich get richer but the poor don't, that their individual utilities can still drop. But let's go beyond society-as-a-collection-of-independent-individuals.
The image of the Monopoly Man merrily dancing next to the poor (or even indifferently ignoring their plight) curdles the blood. Gucci little piggies go first against the wall for a reason.
Maybe she's born with it. Maybe it's Maybelline. Maybe the second line has to be sung in such a sweet voice because the underlying consumerist message is so ugly. The first line is whispered, like gossip, something women are known to do all the time; it's actually genetically selected for by evolution. Maybe she's born with that butt. Maybe it's plastic surgery.
Eros and Magic in the Renaissance

took magic seriously as a system of psychological manipulation that used the cravings and desires of its target—the "eros" of the title—to shape human behavior. It suggested on that basis that modern

advertising

, which does exactly this, is simply the current form of magic, and that contemporary Western nations are "magician states" governed by the magical manipulation of public consensus.

None of these ideas were new. [Ioan] Culianu got most of them from the same place he got much of his magical training, the writings of the renegade Dominican sorcerer Giordano Bruno, who ended a colorful career by being burnt at the stake for heresy in 1600. Bruno's writings on magic describe magic in much the same way Culianu did, as a system of manipulation that casts out lures for nonrational desires.
You know what I notice when I watch street performers?
Besides the feats of superb human achievement, I mean.
I notice the way they handle crowds. The way they maximise their take for the same performance.
The first principle it seems like they've learned is that a crowd attracts a crowd. If you can tell jokes or tease audience members or otherwise keep people drawn in and interested long enough to stand around and see what's about to happen (see Ramit Sethi's "dark secrets of long text" or "weight loss — just one more tip") then more people will want to see "What's everybody looking at? That must be interesting."


Of course, the larger the crowd, the larger the payoff—regardless of the skill or entertainment value of the performance per se.

The second principle it seems they do is to make the audience value the trick. If you're going to ride a 10-foot unicycle and juggle torches at the same time,

you don't just hop up and do it. You first pretend like it's really hard for you to do some smaller trick, like riding a 4-foot unicycle.

After the audience has seen you struggle to get on and ride about, then they've realised how difficult it would be for them to do even the easiest version of unicyclery. Then you let on that you were just kidding and start doing some fancy tricks on the 4-foot unicycle, showing how smooth you are at it. A slow build until the final big trick—probably related to Kahneman's findings on pain rememberance—will leave the audience with a better rememberance of the act and greater willingness to pay.
Draw attention to yourself.



Obviously. No one's going to pay you any heed if you're just being normal.
Ask for the money. 

Actually demand that people give you money. Make them admit this was pretty f***ing fantastic and they should, in fact, give you a few quid each. Don't let people sneak off or if they do then publicly shame them. If you can make a "chute" where people exit in single file through just one way-out and it passes by the donation hat—or if you can put donation hats or smiling collection agents at every one of the finite exits—again you'll increase your take, for the exact same performance.

The economics of this part aren't hard to understand: people have just received something for free and they may be able to excuse themselves for getting an eyeful without reaching into the pocket.

Not only do these successful street performers really have their economics down, they undermine the frequently repeated business advice or economic viewpoints "Work hard and you will succeed".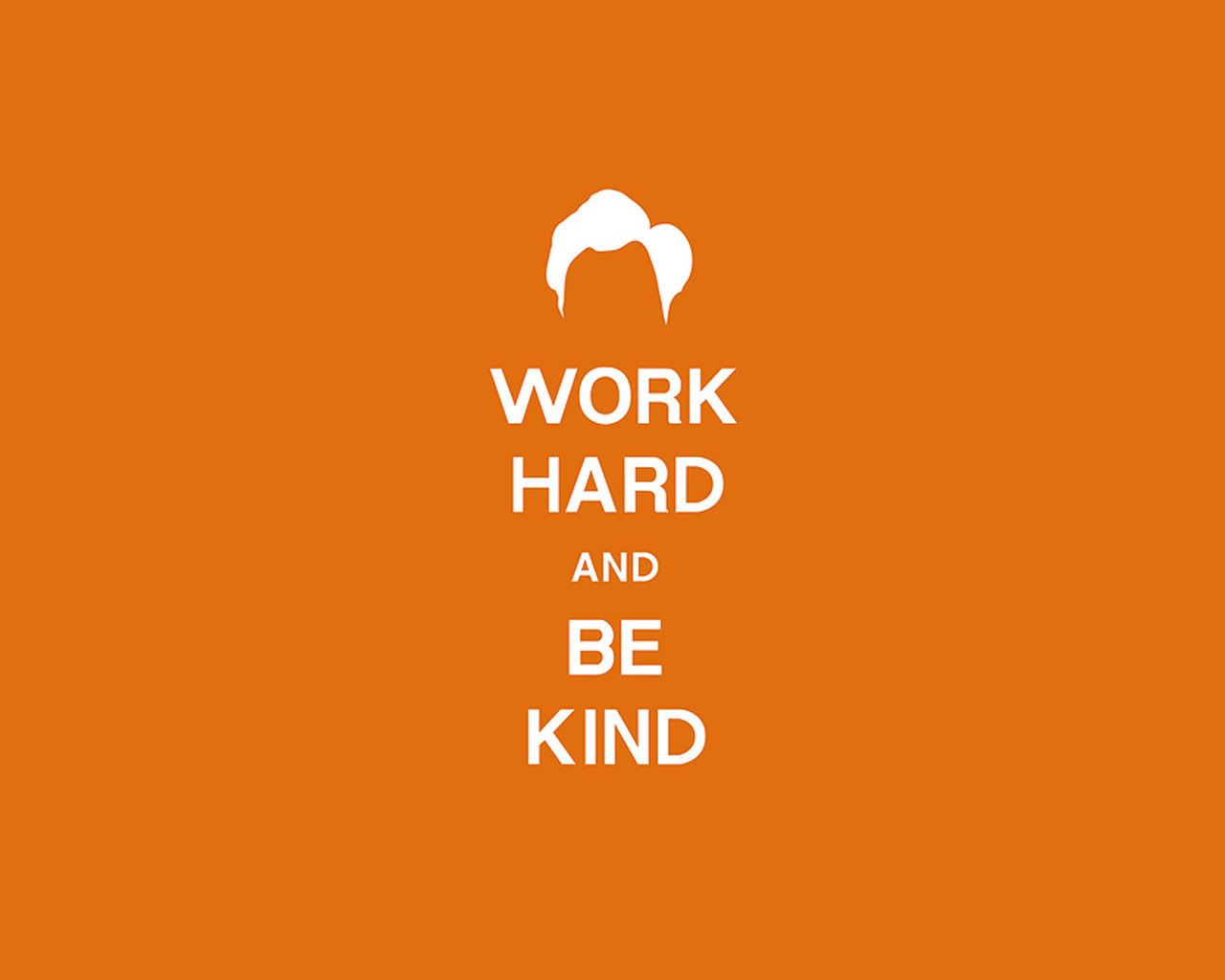 According to this professional you need to be wily to survive in the real world (3:30), to keep your head above water (5:50):
We can measure the success of these street performers by their paycheques and we can measure their hard work by the fact that they perform impossibly hard feats.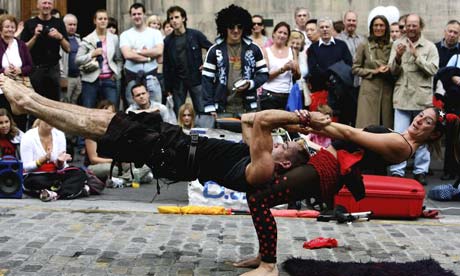 Talent doesn't sell itself. Skill doesn't sell itself. Value doesn't sell itself. Beauty sometimes sells it self, but not for the maximum profit that could be achieved by branding it well or tying it to something else that's being sold.
That's why when people equate hard work with money, I don't see it.
#CollegeMajors4Liberals Class Warfare - syllabus includes denigration of hard-working rich people and lionizing of lazy takers.

— Ryan Patrick (@Amabonovella)
You could easily do all of the training to
ride a 10-foot unicycle
swallow fire
contort yourself into a pretzel
trick people with legerdemain and psychological distraction
and never make any money from it.
Some people create a lot of value without receiving a reward.
And some people receive a lot of reward without creating value.
Some people realise that becoming the CEO of a $30B company doesn't actually require a technical college degree; it requires doing a lot of other stuff, trust in background being necessary but the background itself not being necessary.
We could argue philosophically about the definition of "value" and of "work", but the street performers make it clear that you can do something really hard, be excellent at it, and make drastically more or less money—not based on your talent or skill, but based on your ability to extract dinero from a situation.
Perception is reality. Any beer drinker who is surprised that Guinness has a unique and excellent taste and PBR tastes exactly like Budweiser needs to switch to Guinness because your taste is objectively awful.
That's why Guinness' branding is a seal with a ball and Budweiser needs to use bikini babes.
There's something much deeper going on here, though: a fundamental problem with utility theory and hence, with economic theory. Kahneman & Tversky pointed out that it's wrong to think of preferences as being read off of a master list. But not only are they constructed in the elicitation process, they're constructed before as well. You're looking at experimental proof.
I tried to write about this before in the context of the famous Pepsi/Coke fMRI experiment, but it's too hard. I want to tie in sardonic Don Draper quips, the invention of diamonds, and my own experiences of my desires and wants and dreams being formed by outside (and therefore, sinister?) forces rather than from truly "within me"  — whatever that might mean. Why do I want what I (think I) want? Even Doug Hofstadter treads tenderly around the topics of free will and one's own true desires and self-determination and such.
I have no idea what my subconscious wants

— Cameron Guthire (@thiscameron)
Even though I feel that these things all belong together, I don't understand it all well enough to put forward a thesis explaining the inchoatia. But even with just the few experimental examples we have, it's clear that desires can be manufactured, and that there's a lot of money to be made in doing so. So just with that basic knowledge the Lagrangian model of utility that underlies all of the Edgeworth boxes, welfare theorems, and so on is missing a crucial quality.  Namely, &sym;1% of the global economy is spent on making people want things. That doesn't bear on "utilitarian" products like oil, shipping, … but it definitely bears on aspiration and retail. I'm talking about circularity in the definition of value. If you can logic that one out, let us know.
?
(Source: ocw.mit.edu)
hi-res
[I]t is … anachronistic to apply the term artist with its modern connotation to Leonardo [da Vinci]. Artists in the sense that we understand and use the word, meaning practitioner of fine art, didn't exist in Leonardo's time. It would be more appropriate to use the word artisan in its meaning of craftsman or skilled hand worker.

In the historical literature ∃ a perfectly good term to describe Leonardo and his ilk, Renaissance artist-engineer, whereby one can actually drop the term Renaissance as this profession already existed in the High Middle Ages before the Renaissance is considered to have begun.

[T]he artist-engineers were … regarded as menials. An artist-engineer was expected to be a practical mathematician, surveyor, architect, cartographer, landscape gardener, designer and constructor of scientific and technical instruments, designer of war engines and supervisor of their construction, designers of masks, pageants, parades and other public entertainments oh and an artist.

The … polymath … that everybody raves about when discussing Leonardo … actually … perfectly normal … any Renaissance artist-engineer—the only difference being that Leonardo was better at nearly all of them than most of his rivals.

As far as his dissections and anatomical drawings are concerned these belong to the standard training of a Renaissance artist-engineer—the major difference here being that Leonardo appears to have carried these exercises further than his contemporaries and his anatomical sketches have survived whereas those of the other Renaissance artists have not.

Having denied Leonardo the title of artist I think it is only fair to point out that it was the generation to which Leonardo belonged who were the first to become recognised as artists rather than craftsmen and in fact it has been claimed that Raphael was the first artist in the modern sense of the word….

[an exhibition on da Vinci] emphasises the few occasions where Leonardo drew something new or unexpected whilst ignoring the vast number of scientifically normal or often incorrect drawings, thereby creating the impression that his anatomical drawings were much more revolutionary than they in reality were. Also whilst the drawings published by Vesalius in his De fabrica in 1543, i.e. a couple of decades after Leonardo's death, are possibly not quite as good artistically, as those done by Leonardo, they are medically much more advanced.