Summary: skip to the pictures after the <big> text under heading 2.
11111111111111111
Since 2009, pundits have concerned themselves with economic inequality. Robert Reich's infographic about the US I'll treat as a summary.
Let me dummyise the opinionscape into three camps:
John Galt. The etymology of aristo-cracy is "rule by the best people". The market rewards output fairly. Tax the best people and you will drive them out of France and into perfect stateless seasteads. Lose them and you'll be sorry.
Maximilien de Robespierre. F—k the rich. They inherited their way to the top. Connections, luck, brown-nosing, and false confidence determine incomes more than "merit". The middle manager is no better than his underling. The applicant who got the job is no better than another applicant who was ignored. Guillotine the superfluous gentleman, the role will still be filled; the new girl may even do it better.
Vilfredo Pareto. Hey—if the rich aren't actively making the poor worse off, what does it matter?
The third view is the one I want to challenge just now.
When I see a manual farmer being destroyed by Nature, I feel:
privileged
sorry for the farmer
the longer I spent thinking about their suffering, the sorrier I feel
Why doesn't somebody do something? They don't need much. They just need a little help.
This is so unfair.
And somehow, gut reactions are part of real morality and ethics.
22222222222222222
So here's my challenge to the Paretians. Which image galls you more:
a farmer suffering from drought, with the whole community destroyed—families crying into each other in solidarity as they all lost pretty much everything

, or…
next to the damned farmers weeping on their knees, stands the Monopoly Man, laughing, swirling a flute of champagne and recounting the fable of the grasshopper and the ant.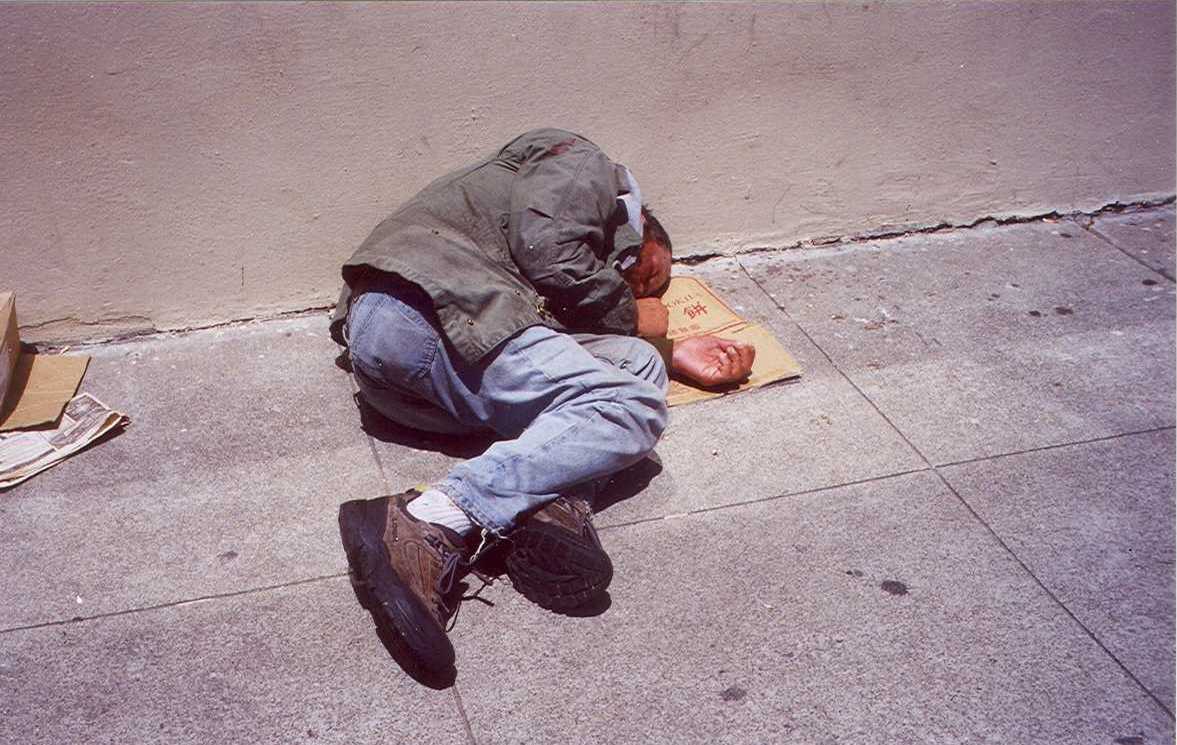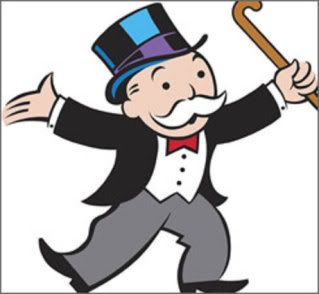 To the extent that these gut reactions translate into legitimate morals, the Robespierreans win over the Galtists and over the Paretians.
Envy exists. From this one infers that when the rich get richer but the poor don't, that their individual utilities can still drop. But let's go beyond society-as-a-collection-of-independent-individuals.
The image of the Monopoly Man merrily dancing next to the poor (or even indifferently ignoring their plight) curdles the blood. Gucci little piggies go first against the wall for a reason.
Advertising rises and falls with the economy, though how much is a matter of debate. Randall Rothenberg … points to the remarkable stability of advertising at about 2% of GDP since 1919, when the data began to be collected.
I'm not the first person to say "ceteris paribus is a lie". What this aphorism means is that if you make a c.p. assumption in order to think something through, then the conclusion you reach may be irrelevant to the real world.
Worse, because people don't understand models, someone might take your careful "A implies B" statement to mean "Both A and B are the case". For example rather than Edgeworth boxes implying that trade be always mutually beneficial, people might take you to mean that
exchange is characterised by Edgeworth boxes
private transactions are always Pareto optimal
which is not at all what the theory's saying. The theory is just connecting assumptions to conclusion: yes, if this were true, then that would surely follow. Which is great because some people don't actually think such things through.
Anyway. Ceteris paribus assumptions make thinking easier, but they hamstring whatever you find out—so that it may be useless, or (hopefully not) worse than useless: misleading.
But maybe it's possible to keep the crutch of c.p. and make it less foolish.
There are some situations where it's impossible to do what I'm going to suggest—like where space overlaps itself. But in Euclidean spaces it is possible.
Econometricians are already familiar with principal components analysis. You make one "composite dimension" which is composed of a fixed combination of existing dimensions.
composite = .4 × X₁   +   .2 × X₂   +   1.7 × X₃
This is what I'm calling a "super-dimension".
You hold all other things constant so you can think logically about a situation that has the geometry of a single straight line. By creating a composite dimension maybe one could still use the handy ceteris-paribus assumption but roll more of real-life into the model too.
For example let's say as wealth ↑, trips to the emergency room ↓. Then you could form a composite dimension with a positive coefficient on wealth, negative on emergency room visits, and talk about both at once with everything else held constant. One step forward relative to talking only about only wealth ↑↓.
But wait — maybe these are only linearly related around a small neighbourhood of some point. Well, we could still create a composite "super-dimension" by varying the coefficients. This could either come in the form of pre-transforming wealth to be log of wealth, or something else — like a threshold effect where we use two or three linear pieces (eg, rich enough with slope=0, way too poor with slope=0, and middle with a linear decrease). In general, whereas linear means +k+k+k+k+k+k+…, nonlinear can be interpreted as +1.2k+k+.9k+.8k+k+1.1k+1.3k+1.2k+1.4k+…. So instead of constructing a composite dimension with fixed coefficients before ignoring everything else, perhaps one could vary the coefficients along with the space.
That's all. This may not be a new idea.
@condoroptions Interviews Tadas Viskanta of Abnormal Returns - Part 1
brokerage model is broken. mutual fund model is broken. ETF's are the wave of the future.
Minute 10. Did the U.S. equity premium dissolve during the lost decade of the aughties?
Minute 13. Do proper accounting. Many investors do not receive the headline equity premium due to tax, cost of intermediary services, etc.
Minute 15. We have to make decisions at some point. Let's not count angels on pinheads.
Minute 17. First, second, third waves of ETF's. (the most opinionated segment)
Minute 19. "It's an ETF; how bad can it be?" You're not getting spot natgas or spot oil. Watch out for the fund's inefficient rolling of futures contracts.
"slow burn" approach to currency investing
Minute 22. The time cost of becoming an informed investor (currencies, options, futures, ETF's, ….) 
"It's really easy to blow up an account trading spot forex"
using options to sculpt your portfolio—trading what you understand to limit risk—rather than using leverage to take strong positions
liquidity an issue for less famous options
"Somebody who's just trading $AAPL long and short is likely to get shook out of a trade"
"There are no good books"
complexity — leverage — liquidity issues
cognitive biases & financial advisors
financial advisors as a buffer between your decisions and the market
advisors who mirror what their clients say
Minute 3. Higher turnover by those who hold higher-volatility asset classes.
Minute 7. There are a lot of things [non-UHNW] people can do with their lives that generate a lot better financial return than fighting for an extra 100 basis points per year. (e.g., saving). We have infinitely more control over our personal choices than over the markets or whatever products we invest in.
Minute 8. People chasing higher yield without understanding what they're doing.
Minute 9. Josh Brown does a post every year reviewing what was the "hot thing" that year. You don't have to be in it.
You're your own portfolio manager. You get to define success for yourself. That does not mean you need to match the S&P.
media consumption — a "liberal arts" or "consilience" or "cross-disciplinary" approach to financial news
Minute 12. Individual investors are actually more free than institutional investors, in that their time horizons are quarterly, daily, and annual.
Minute 16. Viskanta: In 20 years, brokerages will have automated tools for individual investors. (algorithmic)
"the long march of indexing" — Viskanta: people either are or will over-index
fracking totally broke the long-run correlation between oil and natgas — an unforeseeable technology
Since [2008], the [US] labor force participation rate (LFPR) has dropped from 66 percent to 63 percent. [Out of 314M people.] Many people have left the labor force because they are discouraged … (U.S. Bureau of Labor Statistics data indicate that a little under 1 million people fall into this category)….

…Knowing the reasons why people have left (or delayed entering) the labor force can help us [guess] how much of the ↓ might … ↑ if the economy ↑ and how much is permanent. (For more on this topic, see here, here, and here.)

The chart … shows the distribution of reasons in the fourth quarter of 2013…. Young people [usually say they] are not in the labor force … because they are in school. Individuals 25 to 50 years old who are not in the labor force mostly [say they] are taking care of their family or house. After age 50, disability or illness becomes the primary reason [given]—until around age 60, when retirement begins to dominate.

…

Of the 12.6 million increase in individuals not in the labor force, about 2.3 million come from people ages 16 to 24, and of that subset, about 1.9 million can be attributed to an increase in school attendance (see the chart below).
HT @conorsen
off-topic sidenote: the natural cohort —vs— year adjustments, like "the baby boom has shifted 7 years since 7 years ago" are an economic example of the covariant/contravariant distinction
hi-res