I don't think so, for the following reasons:
Companies are still run imperfectly.
Costs are still not as efficiently optimised as possible.
Workers don't produce output at the highest conceivable rate in their current occupation.
Plenty of potential engaged in low-productivity work, unemployed, or otherwise not producing (e.g., in school).
People do wrong, imperfect things all the time. So there's room for improvement.
I realise this argument is incomplete. Just because there's room to grow doesn't mean we'll get there. However I think this line of reasoning may prove productive even if my version of it doesn't get quite there. So let's press on.
Half a century after Solow, many economists and rest-of-us still think of economic growth as an exogenous "magical" process driven by abstract words such as "technology" or "skill" or "trade" or "innovation"—rather than as the macro sum of correct micro decisions taken by individuals at the company two towns over.
Some of that surely is to blame on things like Y=C+I+G+NX. Everything "the government" spends is G—regardless of whether it's spent on a really good idea, implemented well, or on a pie-in-the-sky promise of a half-price incinerator with huge cost overrun. This is like "economists' K working to constrain our thinking". Or like the Mpemba effect where one first assumes temperature is one-dimensional (false) and then infers that "you have to go through here to get to there".
I prefer to think about a time-varying graph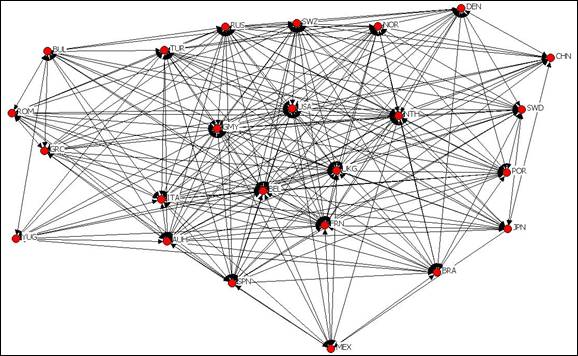 .
Most of the people (nodes) in the graph I do not trade with directly.
The stores I shop at are "popular" nodes. Everyone in my neighbourhood hops 1 to our grocery store. And the grocery store hops 1 or 2 to many many suppliers all over the country (and outside our country).
Salaried people have one very-very thick edge connecting to their sole employer.
And so on.
With this model it's less tempting to use abstract words like "technology" without getting more specific. Clearly this new highway will reduce transit times for many of the transaction-edges. And therefore reduce costs broadly, ergo growth. But its effects are (a) localised to those who touch that edge (or an edge that touches that edge) (b) helping some more than others (even hurting a few on net) and [c] rather than being inevitable, come from the good work of individuals, who could have screwed it up. Now it's tempting to, rather than wish for some magical entrepreneurs or inventors, look at ordinary decisions; not divide the world into "government vs private enterprise"; consider the individuals in particular places who are helped or hurt rather than an average … basically I find this much more grounded and less prone to theoretical histrionics.
Instead of focussing on growth as a 1-D number (Mpemba), trying to correlate it with size of government or regress it against "trust index" or "ethnofract index" or other abstract highfalutins, the GDP number can only be gotten by integrating all the micro elements—which is, I think, as it should be. Then instead of counting on the magical 2% number to stay around 2% year after year, it's nicely surprising if the total value of transactions this year was again at its record historical high. And when people can squeeze even a higher total of value throughput through the year (out of what? out of natural resources? out of ingenuity? out of Saudi muppets?) you have to wonder where that growth came from—if it was from a sequence of very old "industrial revolutions" or from many companies doing things a little better this year than they did last year. (¬∀, but on net.)
Will smart machines make low-wage jobs redundant?
P Krugman asserts in his blog post about Robert Gordon's paper
machines may soon be ready to perform many tasks that currently require large amounts of human labor. …[I]t's all too easy to make the case that most Americans will be left behind, because smart machines will end up devaluing the contribution of workers, including highly skilled workers whose skills suddenly become redundant.
So: yes, armies of back-office pencil-pushers have been replaced in the IT revolution by computers. Thank goodness: what a boring, repetitive worklife. But besides record-keeping and verification and copying and automated checking of things, what is it that humans do that's been replaced by machines? Travel agents? Brick-and-mortar stores with poor selection and high prices? A lot of things computers are good at, like spidering the web, is not something that we previously paid humans to do.
For example Indeed.com, a billion-dollar company created within the last decade, uses electronic computation, networks, and O(100) software engineers to usefully index job search results from disparate sources across the Web. Who lost that job? This is basically a billion-dollar free lunch vis-à-vis unemployment.
Another example that comes to mind is the auto-scan machines at the grocery store. These machines actually make a single clerk more productive. Not that her wages went up necessarily, but the efficiency of the economy did.
So why do peole think automation will replace low-wage jobs? If it's based on evidence rather than me sitting on my couch and spitballing I'm willing to listen. But from my armchair I see people computing electronic tasks that no human used to do, Siri computing what the iPhone users said, Toyota and NewBalance augmenting humans with machines, machine learning/AI/statistical forecasting making digital things better but again not disemploying anyone.
Despite the appeal of using widespread unemployment as a basis for dystopian fiction, I don't see anyone scrambling at the profit opportunity to make window-washing droids, janitorial droids, pizza-delivery droids, anything that requires operating in a broad ambiente. The machines seem to be great for repeating the same task in a well-defined scenario, same as factory robots at the Toyota since decades ago.